Building Information Modeling (BIM)
Building information modeling (BIM) is a process involving the generation and management of digital representations of physical and functional characteristics of places. Building information models (BIMs) are files (often but not always in proprietary formats and containing proprietary data) which can be exchanged or networked to support decision-making about a place.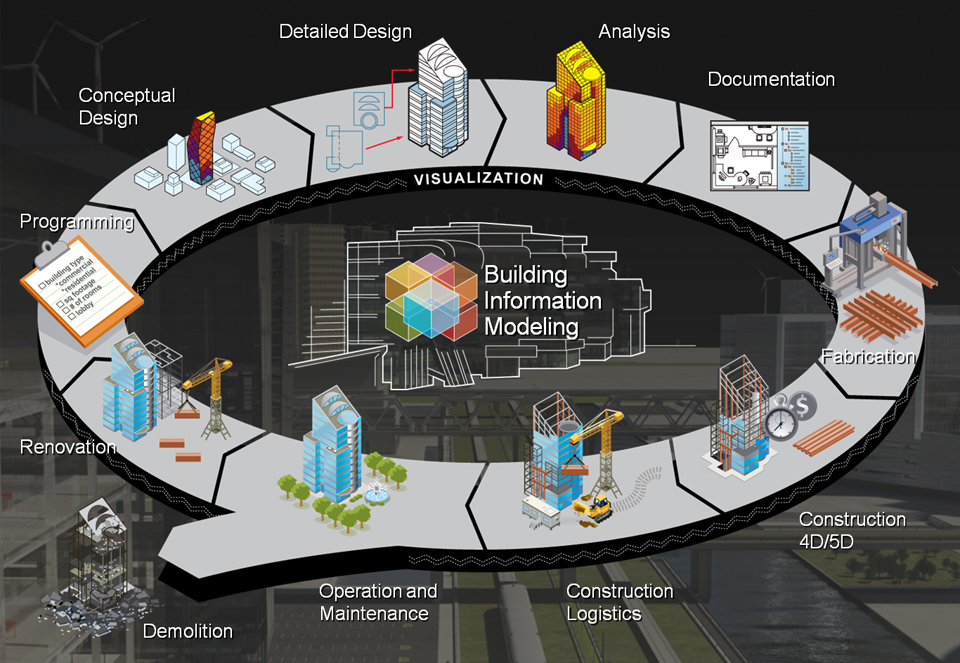 Current BIM software is used by individuals, businesses and government agencies who plan, design, construct, operate and maintain diverse physical infrastructures, such as water, wastewater, electricity, gas, refuse and communication utilities, roads, bridges and ports, houses, apartments, schools and shops, offices, factories, warehouses and prisons.
For professionals involved in a project, BIM enables a virtual information model to be handed from the design team (architects, landscape architects, surveyors, civil, structural and building services engineers, etc.) to the main contractor and subcontractors and then on to the owner/operator; each professional adds discipline-specific data to the single shared model. This reduces information losses that traditionally occur when a new team takes 'ownership' of a project, and can provides more extensive information to owners of complex structures on project completion. (text from Wikipedia, image from buildipedia, May 2016)

BIM and project management is a new and growing field of application and research.  Some of the anticipated PM benefits are expected to include increased integration and teamwork, better cost estimates and lower actual project costs, improved scheduling and resource utilization, reduced risks, improved stakeholder engagement and increased benefits/value generation.
Guides, Requirements and Standards
Level 2 BIM (BSI) – is developed as a point of reference for all parties involved in the construction process to understand how to use BIM and data to improve productivity and reduce waste. Over the next six months there will be visible the final documents, materials, standards and guidance created in partnership with the BIM Task Group.  These documents will continue to be available free of charge in order to encourage all businesses however large or small to take part. For more information, visit: http://bim-level2.org/  (Plećaš)
LOD Specifications 2015 – is a freely accessible specification for amount of detail and information expected to be conveyed in BIM data.  For various elements it is described what should be included, and in 2015 version it is accompanied with even more graphics, at each of five level stages. For more information, visit: https://bimforum.org/lod/ (Plećaš)
National BIM Standard - United States – Website sponsored by buildingSMARTalliance, intended to support users in the implementation of BIM and BIM standards. NBIMS-US™ V3 is freely accessible just by creating an account on the website.   For more information, visit: https://www.nationalbimstandard.org/  (Plećaš)
NBS BIM Toolkit – A free resource for making BIM Level 2 project delivery easier, from the Royal Institute of British Architects. All parties involved in construction projects can use it. It provides step-by-step help to define, manage and validate responsibility for building information development and delivery. You just have to register and start to use it. For more information, visit: https://toolkit.thenbs.com/ . (Plećaš)
BIM Project Execution Planning Guide – A structured procedure for creating and implementing BIM Project Execution Plan developed at Penn State University in the USA. Guide provides a structured procedure for creating and implementing a BIM Project Execution Plan. Creating the plan, the team can follow and monitor actual progress against the plan. You can freely access not only the Guide, but free templates for developing, creating and implementing BIM Project Execution Plan.   For more information, visit: http://bim.psu.edu/default.aspx . (Plećaš)

Professional Organizations
buildingSMART – is an international non-profit organization and home of openBIM, the universal approach to the collaborative design, realization and operation of buildings based on open standards and workflows. A worldwide authority driving the transformation of the built asset economy. Main focus is on standardizing processes, workflows and procedures for BIM.  For more information, visit: http://buildingsmart.org/ (Plećaš)
Papers, Reports and Studies
Articles, Blogs and Commentaries
Websites and Other Online Resources
BIMTalk – is an online centered BIM information portal, set up by voluntary association of individuals pooling their knowledge of BIM. Very helpful website for those just entering the BIM world. It provides a glossary with long list of terms, virtual library, regularly updated studies, opinions and blogs and processes, as well as the list of BIM courses and events.  For more information, visit: http://bimtalk.co.uk/ (Plećaš)
The BIM Delivery Cube  – is an interactive brief guide for Stakeholder at all project stages  linking them with the aspects that need to be considered (BIM information aspects). The Cube provides answers to the most common questions surrounding BIM. For more information, visit: http://www.ciria.com/bimcube.html (Plećaš)
Periodic Table of BIM – is a free, interactive, online guide inspired by the periodic table of elements, divided into group of elements characteristic for BIM.  For more information, visit: https://www.thenbs.com/periodic-table-of-bim  (Plećaš)

More Coming Soon - Please check back
This section of the library is a work in progress.  If you know of good resources to add here, please let us know.  If you are a student and might like to help, consider our research internship.  Click here for information or contact [email protected].